All change on Upper Richmond Road
There really is a remarkable amount of construction going on in London at the moment.
Of course, the tallest buildings get the headlines - the Shard, Leadenhall building, 20 Fenchurch Street and so on. But flagship, skyline-piercing, (primarily) office/commercial buildings like these are not the main factor behind the rash of cranes around London as a whole.
That factor is the housing shortage. Businessfolk and the mayor are concerned that a shortfall of houses will strangle London's economy.
But you don't just build houses anymore. Not in a (relatively) high density city like London, anyway.
The buzzword is "mixed use". The Shard does qualify as "typical" here, although not really, because it's particular blend of mixed use is still rather atypical -- the majority of new builds don't include a Shangri-La!
In a lot of cases, what mixed use really means is a block of flats, with a shop or two on the street frontage at ground level. Maybe a couple of floors given to office space. The flats, naturally, will be "luxury apartments", apart from whatever percentage the local authorities were able to force the developer to assign as "affordable".
Said "typical" development won't be a "tall" building, in 200-300m skyscraper terms -- but it probably will be a taller building. Areas of mostly 3-4 storey buildings are getting 5 or 6 storey additions; where there were already 8 or 10 storeys, new ones are nudging up to 12-15.
It's subtle, and despite the perennial and hysterical cry of the Nimby, "they're turning locality into Manhattan!" (seriously, someone seems to write to a local paper saying this about every proposed building above 10 storeys, with no apparent sense of how ridiculous it is, or irony at how cliched it has become), London's housing shortage is resulting in an ever taller, denser cityscape.
Upper Richmond Road
This is well encapsulated by a third-of-a-mile stretch of the Upper Richmond Road (South Circular) between Putney High Street (for Putney Station) and East Putney Station.
No fewer than five 1960s mid-rise office blocks are due to be, in the process of or have already been torn down, for replacement with shiny new "mixed use" developments. Here, I've taken the photo looking eastwards from above, and scrawled a key to what's happening, with an accompanying map owing a little something to Google Maps.
Here's the council's development strategy, and here's an excerpt containing their Design principles:
At present the south side of Upper Richmond Road from Putney High Street east to East Putney Station is unattractive due to the tall office buildings, built mostly in the 1960s and 70s, that line the road. They rise between 7 and 9 storeys high, well above the traditional 3 storey buildings on the north side and with few gaps in between they present a gloomy, canyon-like frontage to the street. New development can address these problems in the following ways:

Reduce the overall height of those parts of the building fronting the street;
Introduce variety to the skyline to include higher and lower elements, with at least one low (2-3) storey element on the street frontage;
Careful massing of buildings on the frontage and the retention of gaps between buildings to allow sunlight to reach the street;
Wherever possible vary the building line to create new areas of public realm to draw people into the site. Opportunities to embed high quality public art should be considered;
Introduce new uses at ground floor level like shops, restaurants and bars to enliven the street frontage and engage with the passer by;
Introduce residential use to upper levels, whilst ensuring no loss of office space;
Ensure that buildings are of the highest architectural quality.
I'm going to take a look at each of these developments and see how I think the reality is measuring up to these aspirational bullet points.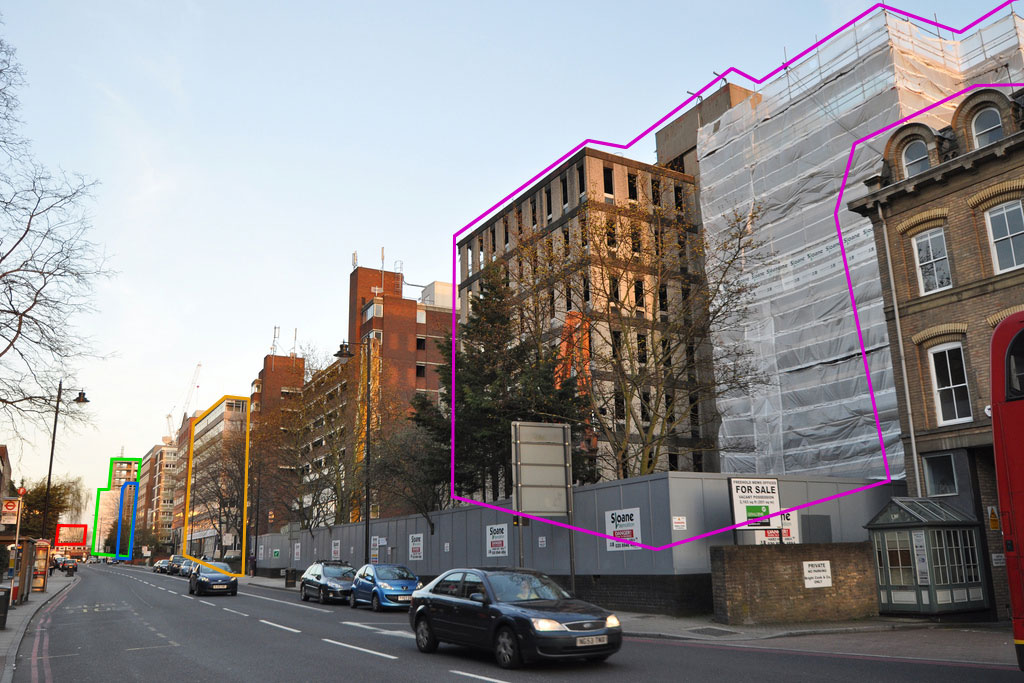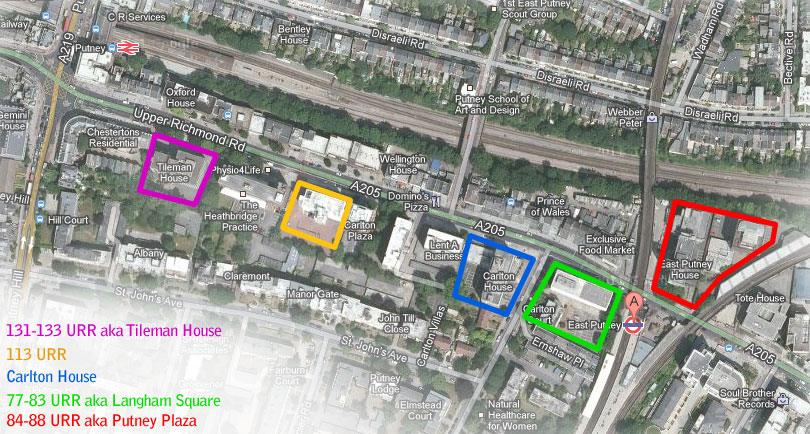 131-133 Upper Richmond Road, aka Tileman House
Tileman House, now confined to the past tense, surely had few admirers, if any. I doubt the biggest fan of Brutalism would claim this squat concrete cube was particularly notable or successful, and most people's verdict would probably be considerably more damning than that. In fact, I'd be thoroughly unsurprised if various synomyms for faeces were used.
Here it was in February 2013.
The block has been officially empty for years, but the demolition revealed that some people have been entering it in the meanwhile: graffiti writers.
From the south, the block seems to vanish entirely within six weeks - from this, in mid-April:
To this, at the start of June:
What's next?
This is.
89 flats, 1600 sq m office space, and 807 sq m retail space on ground floor.
The height has prompted considerable controversy. Here, Stuart King, would-be Labour MP for Putney, hails the "huge victory" when an earlier, taller version of this development was rejected by planning authorities.
Judging by this render, I personally rather like it. I'm not great with architectural criticism lingo, but I guess I'd offer "clean lines and generally pleasing proportions".
In context, intellectually, it doesn't seem quite so convincing, perhaps. If I wanted to criticise I could say the materials are not very related to the surrounding area, and it is quite an abrupt step up from the row of houses on the corner of Putney Hill.
A cynical nimby would definitely say they've cropped the render to ensure nobody can gauge how jarring it will be, whereas this Google Streetview perspective gives you a better idea.
And in this case I think the nimby has a fair a point. I suspect this one, even reduced by a few floors, is still going to feel jarringly tall, when built. Unlike local activists, I don't really mind - the Upper Richmond Road isn't a beautiful street worthy of preserving, it's a midrise shithole. And while Putney is somewhat villagey, and the conservation housing areas of Putney are extensive and nicely 'preserved' examples of traditional low-rise housing, and as such I wouldn't want to see skyscrapers run amok... I don't think 12-15 stories occasionally appearing on the horizon between the chimney pots is a terrible blight, a price too far. It is London, zone 2, it's not a village at all, let alone a pristine historical delight of a village, so keeping it as one isn't necessary.
So on balance, I don't think this is overdevelopment for its location - but I will concede it is pushing the limits a little. Stepping up the "cluster" gradually from the crossroads at the bottom of the hill, with the tallest developments around East Putney tube, would have been a little more sympathetic than leaping to 12 stories rightaway. It'll be interesting to see how this turns out in the flesh.
Overall then, I like the building, I'm cautious but tentatively tolerant of its placement: what about the public realm? Looking at the rendering it's hard to see any real improvement besides simply "not having a decaying, disused concrete cube lurking there", and space for a couple of new shops or restuarants. It doesn't appear to give back any space at pavement-level.
In conclusion, neither a major triumph nor a terrible blunder of architecture & planning, and given the awfulness of its predecessor, an undoubted improvement.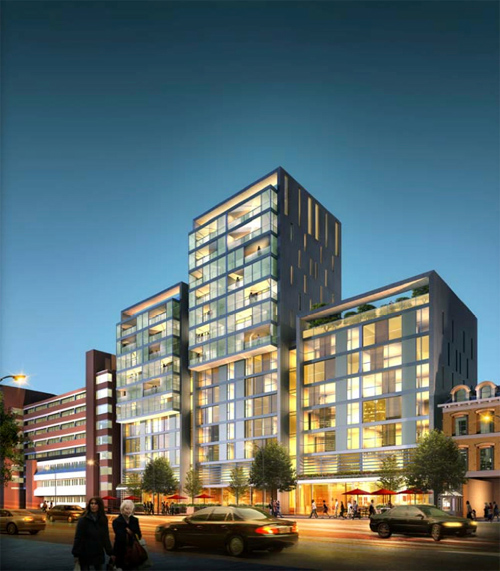 113 Upper Richmond Road
Next door-but-one, here's 113 Upper Richmond Road as it was in early February 2013.
Not as tired and ugly as 131-133, architecturally, but nothing interesting either. And the basic reality is that nobody wants these offices.
And so up goes the scaffolding, and in come the demolition men, clearing the way for more mixed-use goodness.
What's next?
Another dusk-time rendering, which I have meticulously licensed am lazily pilfering from Google image search under some hopeful "fair use" defense.
The building will contain 76 flats, 1440 sq m office space, and 360 sq m retail on the ground floor.
Based on this rendering, I quite like this one too.
I like the tumbledown effect, and the materials appear to be more reflective of the surroundings - it's hard to tell, but it looks like some sort of red brick finish.
On the negative/pessimist side, I wonder if, in the flesh, under grey London skies, it will quite rapidly look very similar to 60s stuff - big, blocky, grey/brown.
After all, you'll end up seeing it from street level, not five storeys up as in that render. The tumble of blocks shape may not be so evident, resulting in a 12 storey monolith overhanging the pavement.
A lot will depend on the cladding/material/finish, which can't be well judged from renders at the best of times, least of not dusk ones.
"Public realm" contribution is more evident than at Tileman House: the new building doesn't extend as far west as the old, opening up a modest sized area of new space. Judging by the render, nothing very exciting is happening in that space, in terms of landscaping or attractiveness for congregration -- a flowerbed, maybe a bench -- for the simple reason that it's too small to really justify anything more than that. Still, space is space, always welcome.
Carlton House
Ah, another beauty.
The 60s and 70s sure did produce some aesthetic masterpieces of concrete office block design.
I've actually worked in this building for the last five years or so. (It's no better on the inside than out. Unless you're a huge fan of being sweltering hot or freezing cold, and broken lifts.)
But not for much longer. In fact, only two more weeks, at the time of writing. We're vacating in order for this building to meet the same fate as its neighbours: demolition, so another mixed-use phoenix can arise in its plot.
What's next?
This is the best illustration I can find of the future development planned here, for 56 residential units (including 12 affordable), 835 sq m offices, and 230 sq m flexible commercial space.
I think the reason it isn't a very fancy rendering is that this has not been given planning permission. The council are still demanding changes to the massing, so presumably we'll get the dusk-tastic expensive PR shots once the design has been nailed down.
As above, it improves the public realm mostly by giving back a little extra space at street level, compared to the current building. This space can really count extra here, as the plot is on the corner of the Upper Richmond Roach and Carlton Drive, giving a real chance to "open out" the area. It's too bad Langham square on the other side of Carlton Drive doesn't reciprocate - on the contrary, it squeezes right up to the corner.
In separate news, there's a planning application from TfL to commandeer a chunk of pavement/layby in front of Carlton House for a Boris Bike docking station. Good to see we're belatedly getting coverage out here in the sticks of SW15.
77-83 Upper Richmond Road, aka Langham Square
This one had a head start. So much so, in fact, that I have no "before" photos of it, since it got demolished before I developed this trainspotterish hobby of photographing local office blocks and building sites.
In fact, since my office overlooks this site, it was really this development which is responsible for kickstarting that strange habit.
Fortunately for me, Google's streetview provided a time machine, showing the old Capsticks office building in 2008.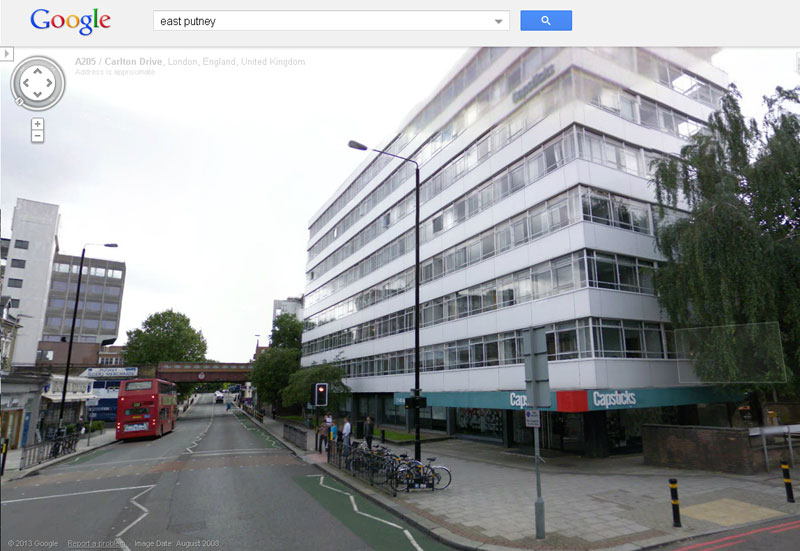 Here's what it looks like in spring 2013.
Before all this sheeting appeared, I had a grandstand view of the building's rise from nothing, and have a partly compiled timelapse film taken from my office windowsill for over a year.
At a future time when the building, and the film, are complete, this sentence will magically transform into a link to a future blog post containing said film and more photos.
In the meantime, since it's reached its full height I've been spotting this building on the skyline from various locations in Putney.
Here it is from Fulham Railway Bridge.
Bonus trivia: one of only two bridges over the Thames taken by the tube, and the only one shared with pedestrians.
Here, from Wadham Road, just off Putney Bridge road.
This photo is probably my favourite I've taken yet in seeking to capture the visual impact of this wave of mid-rise development in London's suburbs.
What's next?
When the covers come off, it'll look something like this. Two blocks, 13 and 9 storeys, containing 104 residential flats "an element of office space" between them, and three retail/leisure units on the ground floor.
It's like the opposite of Tileman house to me - intellectually I can make a case that it addresses the context well, etc -- but I just don't like it!
The red brick / white is an obvious link with the historical housing stock, whereas the shape of the "tower" is reminiscent of the existing SW15H and Putney Wharf residential "towers". The stepping back of the "block" to meet the low rise housing looks like it's been handled quite nicely.
But despite all that, I look at the renders, and I something very much like so many other london/uk resi developments - bland and slightly plastic looking, a sort of mediocre adequacy I don't exactly hate but can't find any real affection or respect for either.
As I mentioned above, the red and white combination is an obvious effort to use materials in keeping with the local architectural context. In Putney, as throughout West London, red brick with white detailing is widespread. I've included an example from Lower Richmond Road.
A couple of years ago, the South Thames College site on Putney Hill was replaced with a development of flats with the unimaginative name Putney Square, also pictured. This tried something similar. It didn't quite hit the mark for my money, going overboard with the areas of white (it's supposed to be detailing, for heaven's sake) and not enough red -- but I think it was closer to a success than this one will be, based on these renders.
At least Putney Square's white bits have a clearly stone look about them; it looks a little shiny now, but it's the sort of material which looks like it will weather nicely.
The Langham Square renders make this one look more plasticcy. The large bit of white "panelling" on the square tower is what bugs me most here, I think, but it's hard to be sure what that, or indeed any of the materials, will look like in reality. I'm braced for a disappointing and cheap facade, just in case, but with a high quality finish this one could win me over.
That said, even with a nice finish I'm not yet convinced by the overall layout and how the buildings' massing works with the public realm either. Putting the tallest building up against the tube where nobody is going to be bothered by it - cool. And as I've said, the other block steps downward quite gracefully to meet the lower rise housing in Carlton Drive.
But that block is pretty firmly pushed against the site boundaries. The corner with Carlton Drive has little room to breathe, with the block moved as far west as possible in order to create a smal "square" between the buildings. But this looks too small to be of any real value as a community/congregration space, too tucked between the buildings to feel part of the public realm as opposed to the building occupiers' realm. Also, that render shows the square brightly sunlit - by my reckoning, as it might appear at 5am on the summer solstice. The majority of the time during a normal day it will in the shadow of its own development.
I wonder if it would have been better to sacrifice this square and redistribute the space back to the perimeter of the site. The developers could have got their profit-margin-ensuring square footage with a single, larger floorplan building, perhaps even rising a few more floors. Personally, I'd rather sit and chill in a planted cafe-terrace-plaza sort of area under a 14 storey building, than squeeze down a narrow pavement immediately fronted by a 12 storey one, yet it seems height is always the greater factor in stirring opposition.
Putney Plaza
Finally, the Putney Plaza site on the opposite (northern) side of Upper Richmond Road.
An awkward site, it is cramped by transport on all sides.
To the south, our eponymous Upper Richmond Road, the South Circular. To the north, the four-track mainline to Waterloo runs in a cutting.
To the west, it is bounded by the District Line running on a viaduct into the eleveated East Putney tube station, while on the east, another railway track allowing trains from the mainline to switch onto the district line tracks - a curve of railway unknown to most Londoners as passenger services don't generally run this way, only empty trains on their way to the depot or avoiding engineering works.
In keeping with the very evident theme of this article, it's currently occupied by a collection of office blocks which are concrete, brown, lumpen, long-disused and would surely be considered "ugly" by a large majority. The whole collection seen here are included in the site.
I will miss it a little bit, though. Mostly for the way, in London's wonderful "golden hour", its strange rust-coloured glazing glowed all kinds of brilliant fiery orange.
At the time of writing, demolition is very much underway.
In fact, in the few weeks since I started writing, one of the buildings has been pretty much razed. When viewed from the tube...
For those who are keen on shots of buildings being torn down, here's a wide angle of the site, and some men perched atop the crumbling shell.
For those who are really keen, here's two and a half minutes of tumbling rubble.
For those who aren't keen - don't worry. the dazzling CGI is coming right up.
What's next?
A similar mixed-use recipe, this time 210 residential units and approx. 4000 sq.m. commercial floor area across three blocks, the highest of which, "Beacon Tower", will be 15 storeys.
My architectural opinion? Somewhere between blandly average and a complete mess, depending on which render you look at.
In this first picture, the yellow lower rise blocks are ok: entirely unexciting, but equally innoffensive, and with a good quality of materials, potentially a decent enough addition. But looking at the second picture, the tower looks like a mess in its own right, and it all looks like a mess in congregration.
I feel bad writing harsh things like that, out of simple human empathy, knowing that people have worked hard on this design and some of them may well be proud of it. I also feel a bit dodgy being so dismissive given that those people know a ton about architecture and urban design that I certainly don't.
But seriously, that tower looks like such a haphazard collection of forms. The overall shape is sort of cuboid, but all set at a jaunty angle to the street, then there's that big vertical fin thing, and a can't-really-tell-quite-what different angle to the building on the other side, and so far it might just about hang together, but with those strongly triangular balconies jutting out at yet another different angle... Really?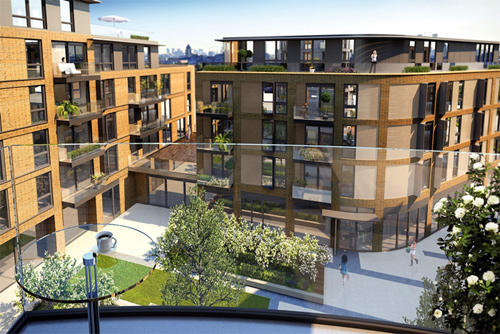 This confused cuboid/triangular beast is then parked next to a yellow angular/cuboid block and an orange curvy/roundy block. All the different primary shapes smashed together in bright colours -- it's like a toddler dropped their play blocks.
Public realm enhancements are in the form of a new pedestrian route from East Putney tube to the footbridge over the mainline, leading to Fawe Park Road.
At "over half an acre", the website hails this space between the blocks as "one of the largest open spaces in Putney". No, really it does. For reference - Wandsworth Park is 18 acres, Putney Common covers 40 acres or so, and Putney Heath, 400 acres. Estate agents are hilarious.
Similarly, we are told how "taking inspiration from traditional orchard design, trees follow a grid to promote the aesthetic and free pedestrian movement as well as ease of access for servicing apartments, while stone paving adds a dramatic signature to the space".
So, it'll be paved, with a line of trees.
I mean, come on, I'm not trying to be mean for the sake of it, but let's be honest. Paving something is kind of the default, not a signature element, and as for the grid of trees prommoting free movement etc etc - I believe this translates as "not putting them in a wall across the path or in front of doorways".
Perhaps because this railway-hemmed site is the most challenging, I also find the most inspiring to wonder what I would have done, in a fantasy land where I am an architect, and I do as I please, with no harsh commercial, budgetary or planning constraints to interfere with my grand designs.
For me, the starting point is the cramping effect of the twin railway bridges / viaducts, and how despite this inauspicious framing, we make our new development somewhere that welcomes and draws people into it.
Now, I would suggest "not putting your tallest tower right in the front middle of it" would be a good start.
Beyond this flippancy, the serious question remains. And there's a serious answer: a market.
Look at Borough Market here: jammed in the unattractive triangle between railway lines near London Bridge, now a sought after destination.
The more I think about it, the better it gets. Not only are markets one of the few adaptions of this sort of railway hinterland to regularly work, it would be a great fit for the area.
Above, I alluded to the question of whether Putney really needs another branch of Costa, but this is the sort of "safe" tenant you're always get in the ground floor retail units typical of these schemes, and I don't expect this development to buck the trend with anything particular exciting.
And that's a bit of a theme with Putney shops in general, or "retail offering" as the council would probably have it. The high street is famously boring and "cloned". It's not all bad. Just across the road from Putney Plaza is one of Putney's few notable independents, the record shop Soul Brother; and down the street is the more recently opened Beer Boutique. But these are exceptions, and on balance there's very little to draw anyone who doesn't live in Putney to shop in Putney.
Surely new developments should be trying to change that, with some degree of ambition?
I think a nice little covered market here could have worked brilliantly. In fact, I like my idea so much I've gone to considerable time and expense to bring you a professional-grade rendering of how it could look:
(with apologies to schimonski for butchering his Creative Commons licensed photo in this fashion)
Get some independent grocers / fresh food / farmers market type people, and/or "boutique" arts and crafts type things, and I really think it could be a viable operation.
Either or both of those should fit the Putney demographic splendidly. Putney, for those who don't know, has a high population of people who would surely desert Waitrose in a heartbeart, darling if a farmers' market was on hand, and it makes a somewhat half-hearted stab at "arty area" credibility what with the art school, sculpture trail, annual artists' open house weekend, and so on.
The town already supports a few art galleries and boutiquey shops so the vendors should be there. Centralising them into a vibing little area, right opposite the tube, with an adjacent co-op supermarket for the more boring essentials... I could really see a little market like that making it a place that people from surrounding areas would actually choose to stop and shop at, in preference to alternatives.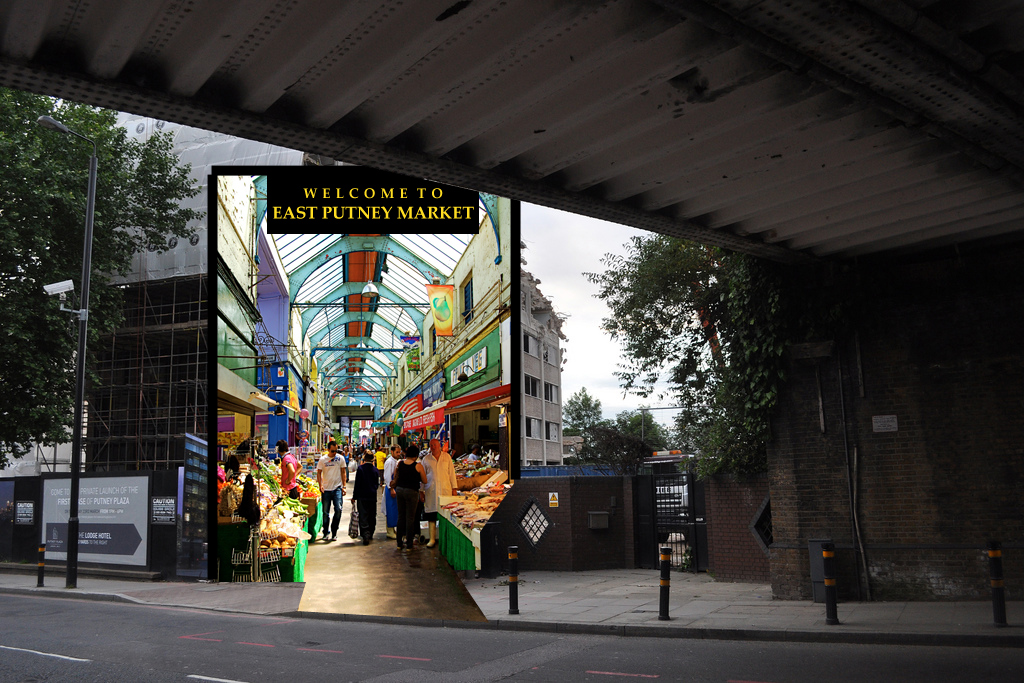 While we're in fantasy-land, anchor it by getting Soul Brother to move across the road and set up a new cafe-cum-lounge-cum-record shop in conjunction with someone. If we're going to have yet another coffee shop, it may as well play Sly and the Family Stone!
(If we really wanted to the push the boat out... and I realise this might be going a bit far for dear old Putney... it could even... wait for it... have occasional live music events in the evening as well! No, ok, I've gone too far...)
And if we can stick the florists (photo by Snappy Pete) in or outside this new market, we can de-cramp the entrance to the tube, put in a little water feature or flowerbed, and some benches, much nicer public realm on both sides of the street that way.
Sounding good, right?
Now, a covered market like I'm imagining would occupy a fair swathe of the site, and no doubt the rental incomes from 20-30 bitty little shop slices & stalls are smaller and less predictable than your Waitrose + Costa combo. I'm guessing, but it seems reasonable to imagine this market lark is less profitable, and/or more risky. You can build on top of it, of course, but not too much if you want the natural light. In my mind, the developer counterbalances this and still comes out with a profitable amount of flats to sell by tucking a decent size tower in the north west corner of the site. That corner is next to the railways, i.e. furthest from the surrounding streets, to considerably reduce any "tall building looming over the pavement" factor, and will never overshadow the natural light into the market. Twenty stories or so would give the developer about double the current height to make up for the loss of their fat lower-rise "blocks".
Of course, the local opposition would be hysterical about that: 20 stories? Completely out of scale with the area! Which is odd, when Putney Wharf is, what, 17 stories? and there's a slew of taller ones up and going up half a mile east in Wandsworth.
Personally, I'd far rather have a mid-rise "tower" and a piece of public realm worthy of being a "destination", than three squat lumps surrounding a generic bit of paving that probably not even the residents will extensively use.
But of course, I'm just ranting emptily into the wind here. I'm not in urban planning, I can't even write a letter to my town councillor's filing cabinet because the scheme has already been approved. And I'm sure there are numerous excellent reasons why my ideas here are pure fantasy, in the derogatory sense of the term.
But if Putney Plaza opens with SW15's ninth branch of Costa or Nero on the ground floor I will be unable to shake the sense that regeneration could and should be more varied and interesting than this.
London Borough of Wandsworth